Working with worldwide customers to successfully engineer special inserts or supply with stable good quality of standard inserts, SCT provides customer-focused services to fulfill customers' OEM needs, custom-made demands and insert-copying requirements in accordance to customer drawings or samples !
---
New Inserts

SCT new inserts are including standard inserts, copying inserts and custom-made inserts, as well as engineering inserts for our customers.

♦ Standard Inserts





Our top quality of standard Inserts includes Turning, Milling, Threading, Grooving, and Drilling inserts made by materials of Carbide, Cermets, Ceramic, CBN, PCD, HSS...etc. All cutting inserts will be ground to industry standards or ground to customer's print. OEM is highly welcome !

♦ Copying Inserts & Custom-Made Inserts



Our special inserts (to print, special widths, special radius) includes:
• Copying service of cutting inserts from well-known industry-leading manufacturers workdwide, such as Kennametal,
Walter Tools, Mitsubishi Carbide Materials,Kyocera Cutting Tools, Sumitomo Cutting Tools, Nine9 Cutting Tools,
USA tools makers...etc
• Copying inserts in accordance to customer drawings or samples
• Limitless grade and style selection
• Custom grinding to your specifications with the potential for altering the process to give customers the optimum tool
for their application
• Wide range of options for coatings available

♦ Engineering / Designing inserts accroding to customers' needs

---
Production Flow of SCT tungsten carbide inserts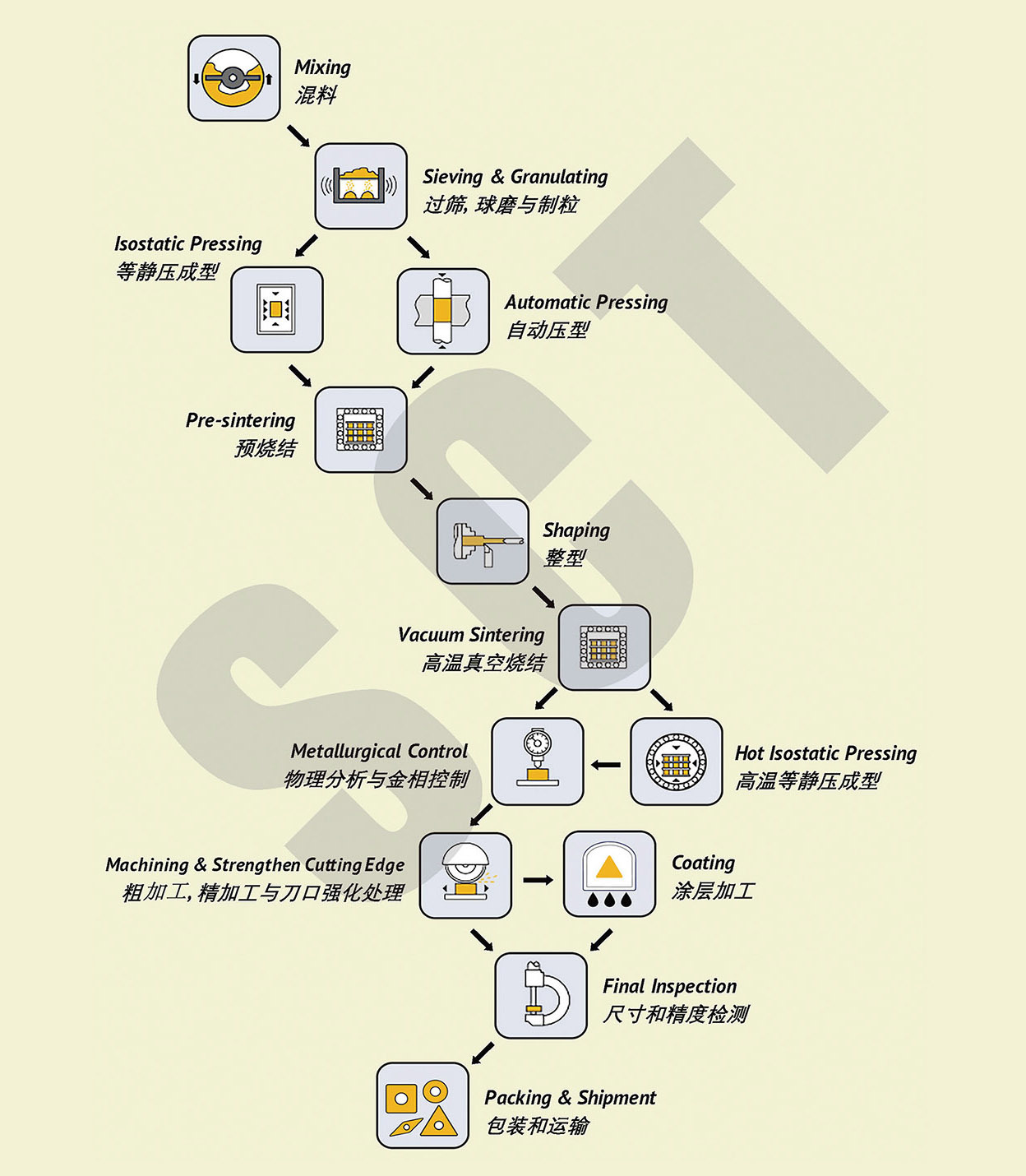 ---
Re-grinding Service

Because the charge for regrinding is only a fraction ( 20 to 25% ) of the cost of a new insert, it is economical and necessary for you to have your inserts reground. SCT provides regrinding service to our worldwide customers in an easy way:

• Customers send us the scraped carbide and tell us their needs;
Ÿ• SCT lists the material received and consults closely with customers to help determine the lowest cost and optimum
specification of re-grinding;
Ÿ• SCT makes quote for the grinding/coating items one by one and waiting for ustomers confirmation and formal approval
to proceed;
• Both sides sign the order and customers make deposite payment;
• We work on your order and return your high quality reground inserts within the pormised time.